Pediatric Chiropractic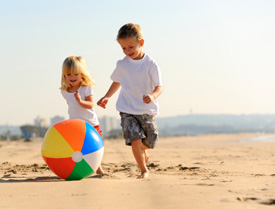 As a dad, Dr. Hinsch is passionate about helping children experience the best health possible through natural chiropractic care. Children of all ages, from newborns to teens, can benefit from chiropractic at Family Chiropractic Office. Dr. Hinsch is certified in the Webster Technique and has helped many moms-to-be.
Providing Gentle Adjustments
If your child has never been adjusted before you may have questions about what the process is like. Depending on your child's age a subtle palpation will be used. Dr. Hinsch will feel the bones of your child's spine and the surrounding muscles, evaluate their posture and measure their range of motion.
Dr. Hinsch always provides gentle adjustments for children. For example, he would use the same amount of force that's used to test the ripeness of a tomato. There is no twisting or noise involved. Children usually look forward to getting adjusted as somehow they innately know it's good for them!
The Benefits of Care
Children who are under chiropractic care can experience a variety of benefits. These include
Improved performance
Better posture
Improved immunity and fewer missed school days
Enhanced ability to focus
Relief from colic, ear infections, asthma, back pain and more
The New Patient Process
So he is equipped with information to provide the best possible care for your child, Dr. Hinsch will ask you some questions about your pregnancy, what the birth process was like, any history and success of breastfeeding, when your child began to crawl and many others.
Your child can enjoy our fun family room while they're waiting to be seen. It's our goal to ensure that our young patients have the best possible experience here.
If you've been searching for a pediatric chiropractor, Dr. Hinsch can help your child get on the path to better health. Schedule an appointment today at our North Fork or Shelter Island office!

Pediatric Chiropractor Mattituck, Shelter Island, North Fork NY | (631) 298-5333