Meet Dr. James Hinsch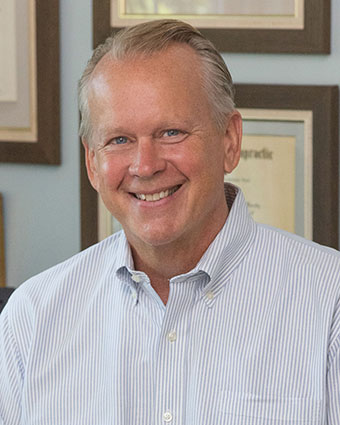 Dr. Hinsch grew up with chiropractic. He received his first chiropractic adjustment at six weeks old. At that time, he had a fever, and his mother (a chiropractic patient) knew he'd better deal with the fever if he got adjusted to correct any spinal misalignments. Both his parents had significant health issues addressed by chiropractic, and all of his five siblings got adjusted regularly. Dr. Hinsch's parents valued chiropractic so much that they made it a lifelong part of their health care. His dad got adjusted into his 70s and his mother near 90.
From Communications Student to Chiropractor
In college, Dr. Hinsch considered majoring in communications then quickly changed his focus to psychology. It was at a visit to his chiropractor that Dr. Hinsch decided to pursue chiropractic as a career. After years of regular chiropractic care, he realized that chiropractic was a good fit. To obtain his Doctor of Chiropractic, he attended Palmer College of Chiropractic in Davenport, Iowa, graduating in 1987.
To further his education, Dr. Hinsch takes continuing education courses from the International Chiropractic Pediatric Association (ICPA) and is certified in the Webster Technique. He particularly enjoys caring for kids and moms. He has also learned a variety of low-force and no-force techniques, allowing him to provide gentle adjustments.
Finding Satisfaction in Helping Patients
Growing up, Dr. Hinsch noticed that his chiropractor was passionate about what he was doing. Now that he's been in practice all these years, Dr. Hinsch understands that passion as he feels it every day when he goes to work. "I enjoy what I do so much and can't believe I get paid to help folks!"
A Respected Recipient of Referrals
Dr. Hinsch has garnered a reputation for excellence in the local community, so much so that he regularly receives referrals from those in the medical community. "Today, the public is much more accepting of the concept that the body is designed to heal itself."
Outside the Practice
When he's not caring for patients, Dr. Hinsch enjoys spending time with his wife Lisa exploring the North Fork. They have two sons, one of whom is in the Army and the other getting ready to finish up school. "Outside of my family, my greatest joy in life is what my patients teach me. They are amazing and incredibly talented, I've learned so much from them."
The family lives in the home his grandfather built in 1932. "We live in a very special place that's unlike any other." Dr. Hinsch formerly served as the president of the Mattituck Lions Club, the Mattituck chamber of commerce and the Mattituck Community Fund. Dr. Hinsch keeps his spine healthy by getting adjusted once a week by a chiropractor who practices near him. "He adjusts me, and I adjust him."
Contact Family Chiropractic Office today to book an appointment with Dr. Hinsch!

Dr. James Hinsch | (631) 298-5333